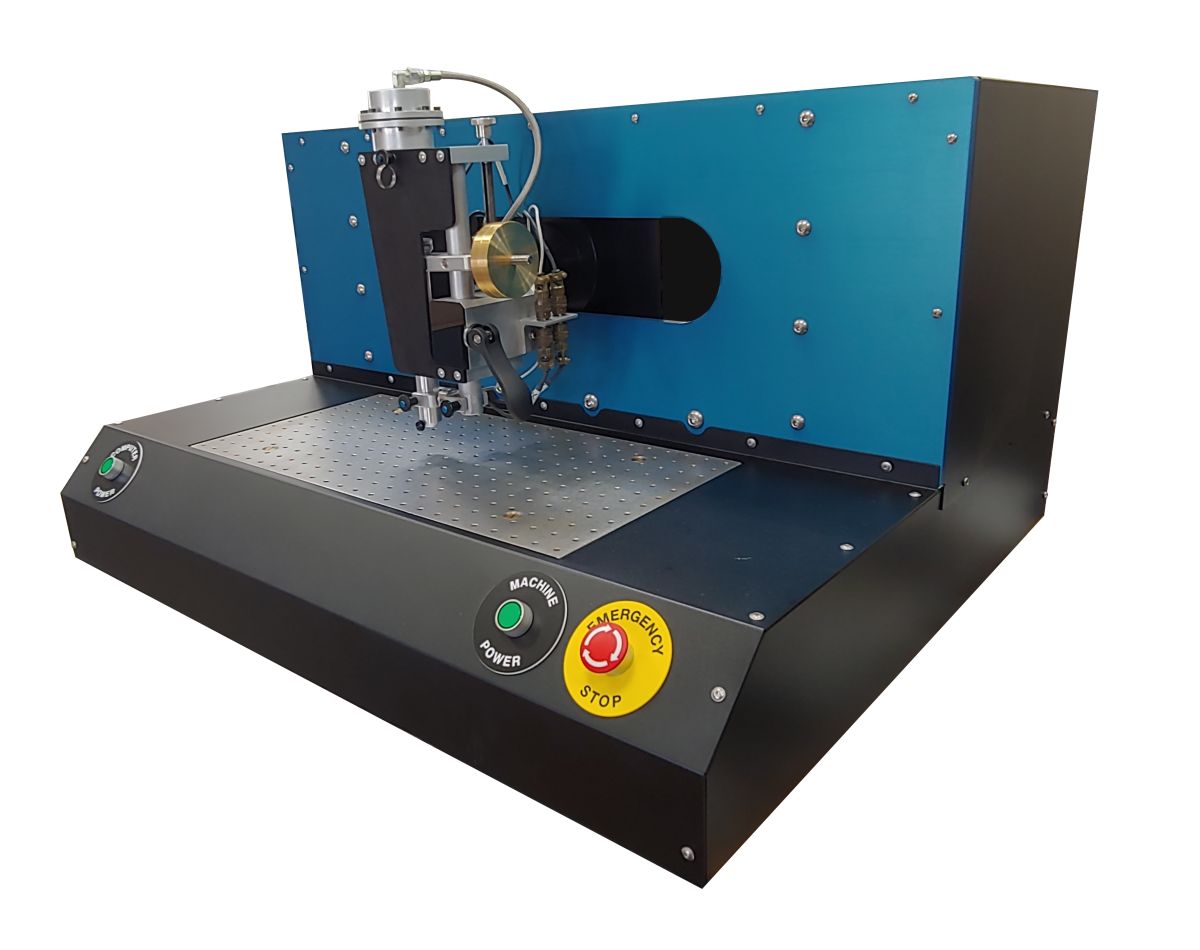 The Scratch 5.5 Machine is a scratch and mar testing instrument for macro scratch. It is a research grade polymer, coatings, films, and bulk materials tribology instrument, capable of exploring scratch, mar, and other surface properties in a rigorous and meaningful way.
Common industry applications include:
Automotive, aerospace interiors, exteriors, and coatings.
Food packaging and labeling.
Aerospace wear resistance.
Consumer electronics scratch and mar resistance.
Home and furniture scratch resistance.
Down-well coatings scratch resistance.
Industrial automation production line scratch and wear performance.
4 Axis Instrumentation
Normal and tangential load (up to 400N), micron depth resolution, and high resolution tangential data at up to 2000 samples per second.
Normal Load: 600N, 0.05% accuracy.
Normal Load: 100N, 200N, 0.25% accuracy.
Depth: 50mm, 5 micron accuracy.
Puncture detection (optional)
Up to 2000 data points per second, in situ
High Speed, High Load
The Scratch 5.5 Machine applies real-world loads at macro speeds. Up to 400 mm per second at up to 400 N of load.
Velocity: 1 to 400 mm/s, programmable.
Load: 1 to 400N, progressive profile or constant load, programmable.
Multiple Test Modes
Rising, falling and constant-load scratch and mar. Capable of reciprocation (wear) and indentation. Replicates a variety of industry standards including ASTM D7027-05, ISO 19252-12, ASTM D5178, TAMU/Avery-Dennison Mar, Ford 5-finger, Erichsen cross-hatch, pencil-hardness (dead load), Volkswagon PV3952, GM 14688-A-10N. Surface Machine Systems is a member of the D20 ASTM committee and works with the PTC SCRATCH Consortium and other industry partners to help develop and promote rigorous tribology standards.
ASTM D7027-05
ISO 19252-12
Cross-hatch: scratch, mar
Mar: high gloss and matte surfaces
Textured & Printed surfaces
Progressive rising load (programmable strain rate)
Constant load: 5-Finger, Cross-hatch, D5178
Programmable Progressive Load Profiles
The G5.5 machine is fully programmable from 1 to 400 mm/s, and loads from 0.5 to 400N (depending on configuration). Each test can be run as a progressive load, using any valid load range as a start and end point. You can dial specific strain rates to test for specific material features.
Options and Peripherals